Product Description
Plantable Christmas Ornaments
Customizable Christmas ornaments in paper with seeds. Plant them and watch them sprout
Zero-impact Christmas ornaments! Use these cute Christmas Ornaments in plantable paper as gift cards, gifts for customers or eco-friendly decorations for your room, office or business. Their special paper contains non-GMO seeds: just plant them and watch them sprout. As soon as the holidays are over, put them in a pot, covered with a thin layer of soil, ensuring light and water. In a few days they will create beautiful seedlings and flowers. Among the different formats available, choose the one that best suits your brand: the classic sphere, the star, the flower or the Christmas tree.
Unique Creativity
Customize the Christmas Ornaments in plantable paper with your own design or logo. Distribute them to customers or use them to decorate your commercial space. In any case, thanks to the personalization, design and uniqueness of the material, they will not go unnoticed!
Customization
Each Plantable Christmas Ornament can be customized with a graphic of your choice. The customization takes place with direct four-color printing. Choose the template that best suits your needs on the "Customization" tab and create your own design.
Ecological
Christmas also means celebration and gifts, but unfortunately sometimes it also means unnecessary waste. Cards and Christmas decorations often produce waste that is harmful to the environment. These Christmas Ornaments in plantable paper are absolutely ecological. They do not pollute and are 100% recyclable.
Decorations
Our Christmas Ornaments in plantable paper allow you to decorate professional environments with style. Hang them on cardboard Christmas Trees and place them at strategic points to create the ideal Christmas atmosphere inside offices, shops, pop-up stores, clubs, coworking areas, shopping centers, gyms, etc.
Greeting Cards
During the Christmas Holidays, for corporate gifts and gifts to customers, you should always have Christmas cards at hand, even better if branded. Our customizable Christmas ornaments are a versatile solution to promote and accompany any Christmas message or gift.
Promotion
The Christmas Holidays are the ideal opportunity to enhance your brand awareness. Associate your corporate image with love for the environment, thanks to our Christmas Ornaments in plantable paper.
Originality
Highlight your brand this Christmas, thanks to our customizable Christmas Ornaments. Order them now to start decorating your corporate space or business. Do not miss a Christmas ornament in plantable paper to use as gift to customers and employees. It is often the details that make the difference, leaving a positive impression of your brand. Get them now!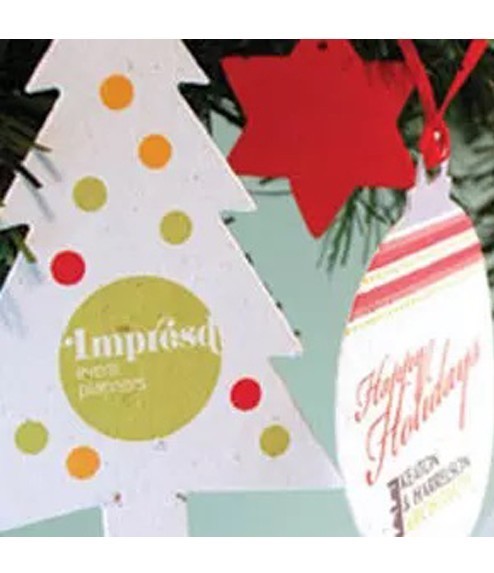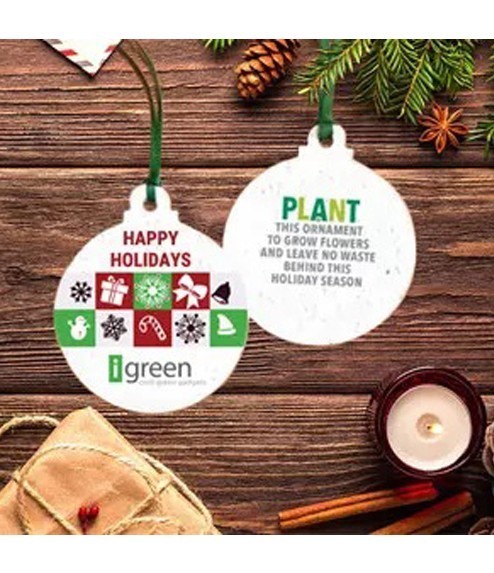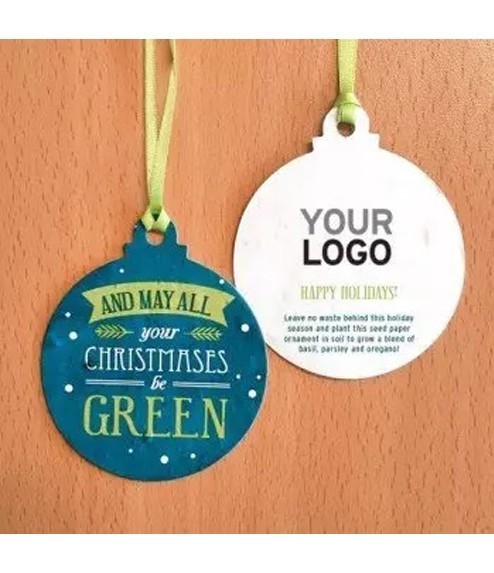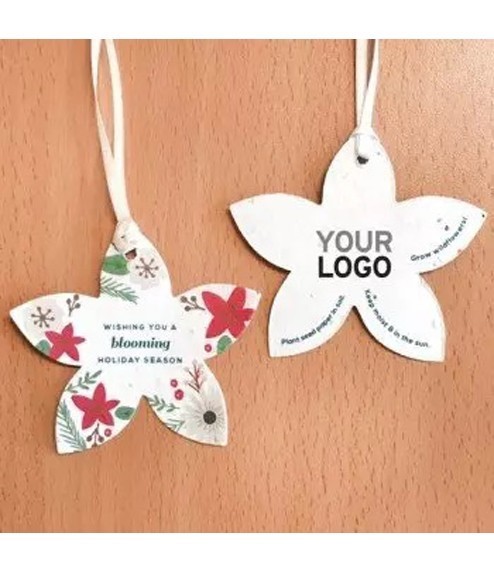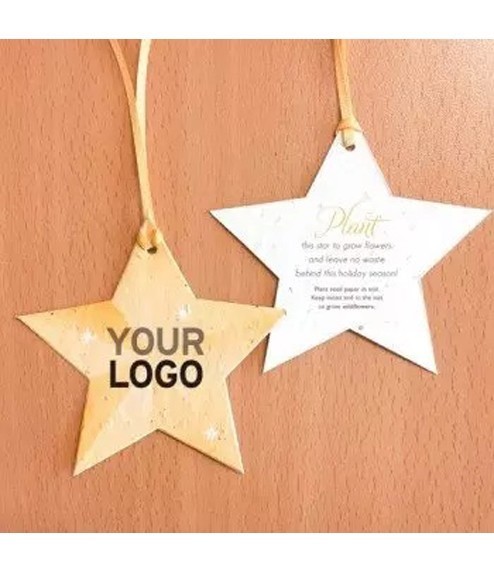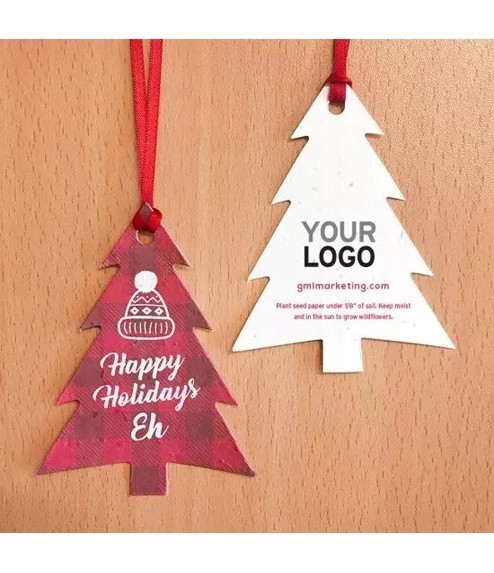 Available Seeds: Wildflower Seed Blend | Chamomile | Tri-Herb Seed Blend (Basil, Parsley & Oregano) | Basil | Parsley | Dill | Thyme | Lettuce | Carrot.
Material: special biodegradable paper with seeds.
Paper color: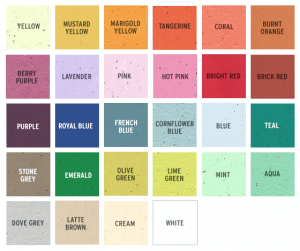 Plantable_Paper_Colors.pdf
Paper Grammage: 300-350 gr.
Note: all our plantable paper is tested and approved by the CFIA and USDA for planting in Canada, the United States, the EU, the United Kingdom, Hong Kong, Singapore and many other countries.
Flower Seed Options
Wildflower Seed Blend
Bird's Eye, Clarkia, Black Eyed Susan, Catchfly, Snapdragon, Sweet Alyssum.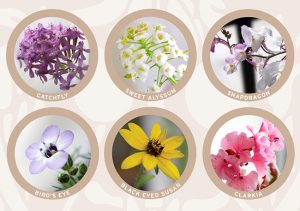 Chamomile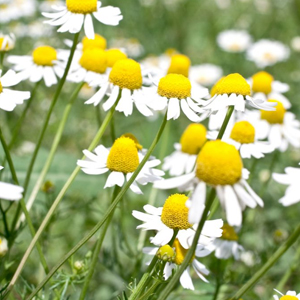 Tri-Herb Blend
Basil, Oregano, Parsley


Herb Seed Options
Basil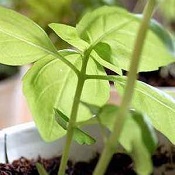 Parsley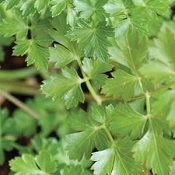 Dill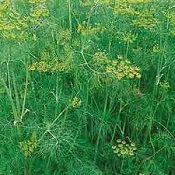 Thyme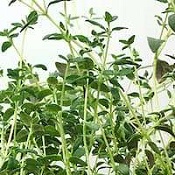 Vegetables
Carrots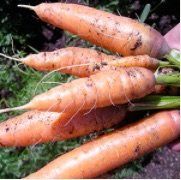 Lettuce