Product Description
Button Badges in Plantable Paper
Brooches in plantable paper: the double gadget that you wear and … it blooms!
As you know, iGreen Gadgets always have a hidden side. But with the Button Badges in plantable paper the surprise effect really reaches its maximum. A real strong card brooch, which can be used to decorate from the most formal jacket to a leisure t-shirt. And then? And then just insert it into the soil, give it water and light and the fashion accessory becomes a plant! All with the possibility of inserting any type of personalization on both sides.
Choose between two different sizes and many seeds available!
Real Button Badges that can be used as a clothing accessory, however, the pins in plantable paper are made of a special eco-sustainable material that combines strength and respect for the environment . A perfect gadget for many different uses, also thanks to the possibility of choosing between two different formats and many qualities of seeds.
The Button Badges in plantable paper are in fact available in the more discreet small size of 51mm, and in the playful large size of 76mm, for a fun and extravagant effect. It is also possible to request a mix of colorful wildflowers but also a trio of aromatic herbs (basil, oregano, parsley), or single seeds such as basil, parsley, chives, lettuce, carrot, tomato, dill and thyme.
Paper with seeds: the special paper that transforms into a seedling
plantable paper is a very special type of paper, twice as fond of of nature. On the one hand, in fact, it is made with techniques that comply with the highest certified sustainability standards, and is completely biodegradable . On the other hand, it contains seeds that allow it, if planted, to sprout a seedling. Just insert the paper with seeds into the soil, remember to water it and keep it exposed to light and you can really see it sprout from snapdragons to tomatoes.
Furthermore, the seeded paper has the peculiarity of being available in different weights. They range from the more robust variants, such as for the pins in plantable paper which have a weight of 300-350 gr designed specifically to guarantee their resistance, up to the lighter versions . With this type of paper it is therefore possible to really make everything from thin bookmarks to gift wrapping.
Many opportunities for use thanks to customization
The Button Badges in plantable paper can be used in any type of eco-sustainable communication campaign . To be distributed at an event, as a small gift for customers and suppliers, as an original gadget to accompany a package, there is really no limit to the occasions of use, perhaps combining seeds and colors with the communication campaign.
In addition, with the special customization service of, it is possible to have high-definition four-color printing of patterns, logos, company colors, but also dates and real advertising claims. An original and intelligent way to amaze and be remembered, linking your brand to a positive concept such as that of sustainability.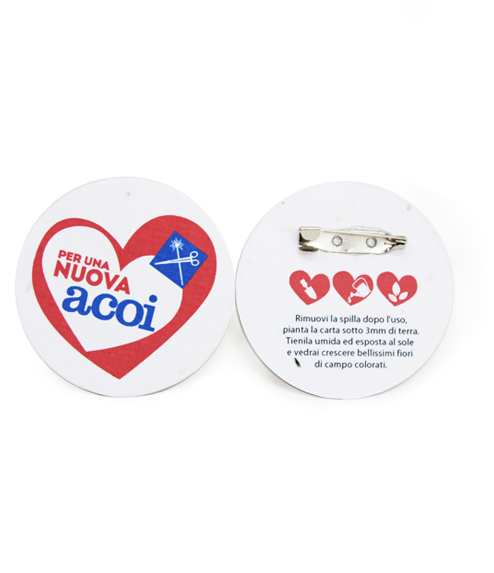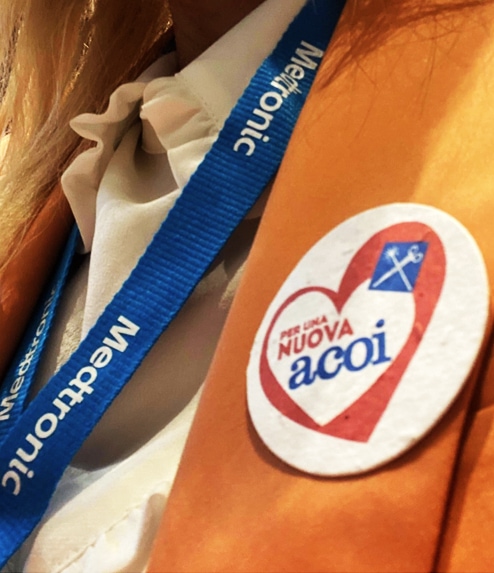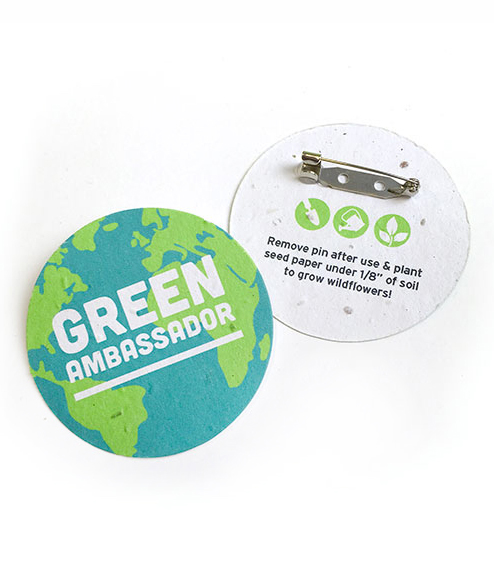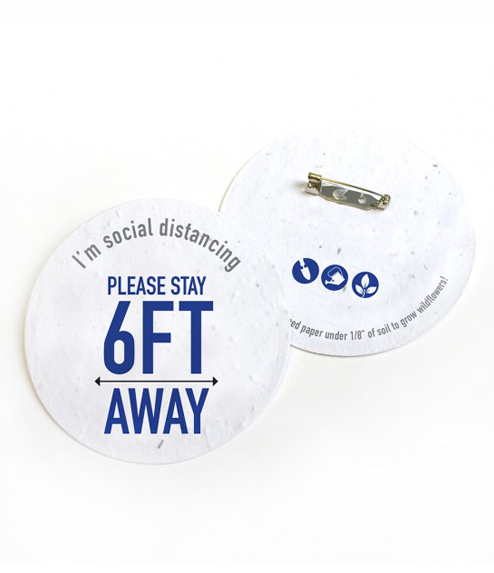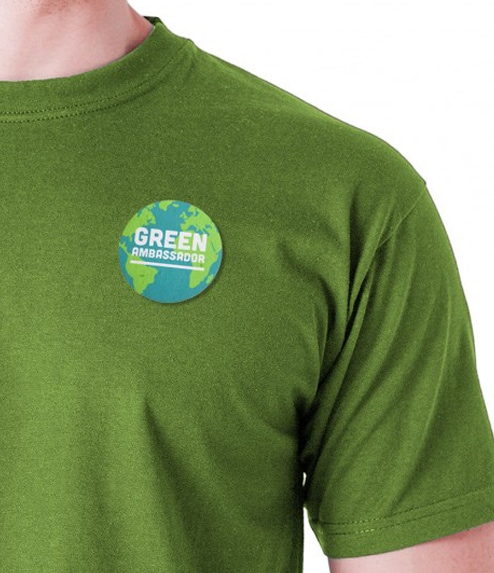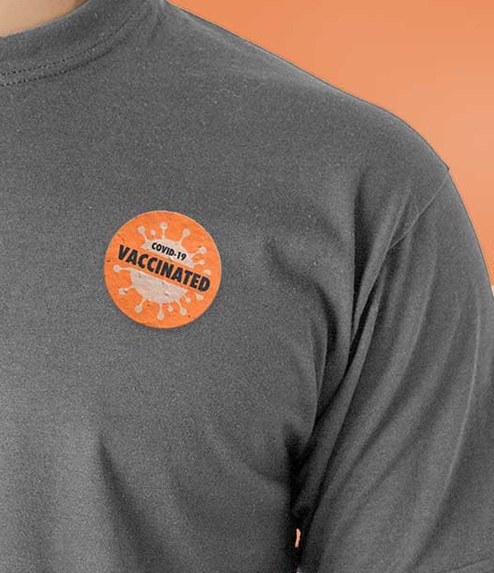 Available Seeds: Wildflower Seed Blend | Chamomile | Tri-Herb Seed Blend (Basil, Parsley & Oregano) | Basil | Parsley | Dill | Thyme | Lettuce | Carrot.
Material: special biodegradable paper with seeds.
Paper color: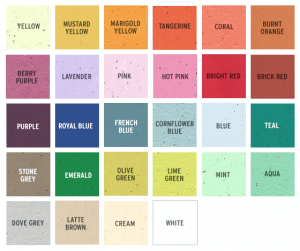 Plantable_Paper_Colors.pdf
Paper Grammage: 300-350 gr.
Note: all our plantable paper is tested and approved by the CFIA and USDA for planting in Canada, the United States, the EU, the United Kingdom, Hong Kong, Singapore and many other countries.
Flower Seed Options
Wildflower Seed Blend
Bird's Eye, Clarkia, Black Eyed Susan, Catchfly, Snapdragon, Sweet Alyssum.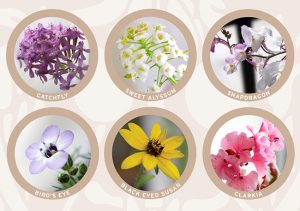 Chamomile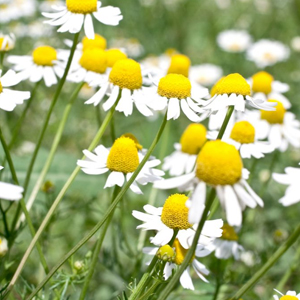 Tri-Herb Blend
Basil, Oregano, Parsley


Herb Seed Options
Basil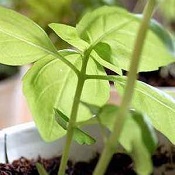 Parsley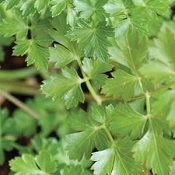 Dill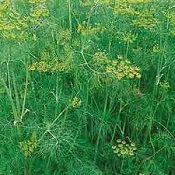 Thyme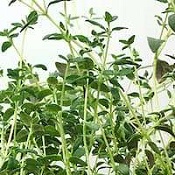 Vegetables
Carrots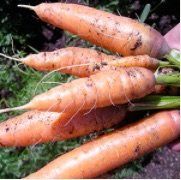 Lettuce
<img src="https://www.igreengadgets.com/wp-content/uploads/2018/01/Lattuga.jpg" alt="" width="177" height="179" class="alignnone size-full wp-image-3076"/